FELISAC, Feria del Libro San Andrés Cholula (San Andrés Cholula Book Fair), had his first edition at the middle of the spring of 2022, organized by the Art and Culture Secretary of San Andrés Cholula Municipality Government.
Because it was its first time, they need to create a visual language that engage and capture the sense of imagination, the richness of creating throughout reading and learning, also as many other activities aside the book fair had.
They already had a logo research they made with the internal creative team, so I just take it and manage and edit into the design development I made. Since the brief was making something playful and wow factor, I develop a bunch of little elements, a nice and functional typographic package, a cool and vibrant color palette. So I designed a main character based on Quetzalcoatl, one of the main gods of prehispanic culture that also means 'Serpiente emplumada (Feathered serpent)'  and also a symbol of Cholula city, which have one of the most important archeological places in the middle of Mexico, including the biggest pyramid basement in the world, which is also dedicated to Quetzalcoatl, also many of little elements that spread around the space, all of them related with nature that alive around the zone just like birds, butterflies, starlights, feathers, leafs and flowers, also some random abstract and festive shapes and of course, a stylized book.
The idea is that we have a book made by multicolor sheets, they just transform and explode a festive celebration of imaginative shapes, but mainly the Quetzalcoatl character, which was illustrated as a multicolored feather shape and a movable body. All those elements were very adaptative in every application, from the most tiny to the bigger ones, from printed to digital, and everyone works great in every space. Everything were designed with a well organized hierarchy criterio.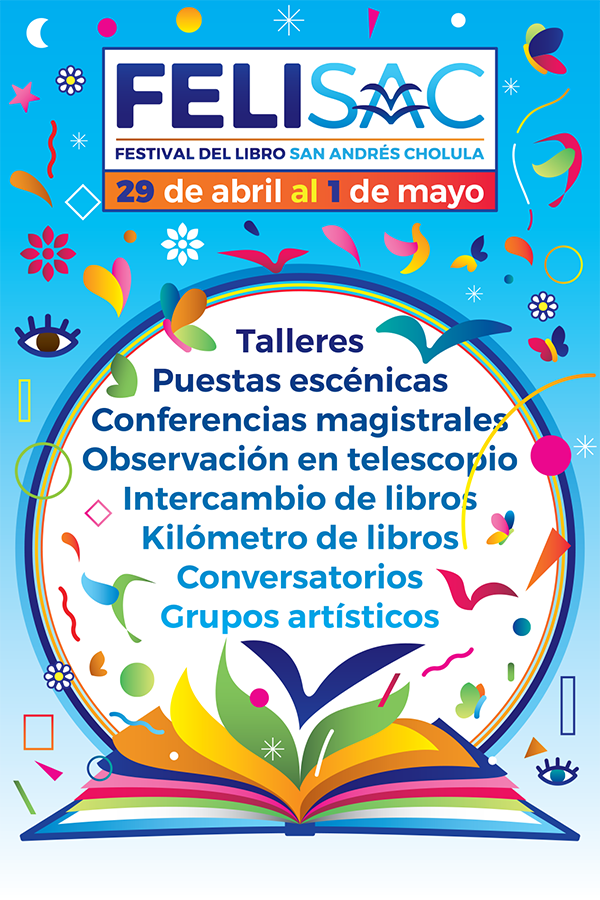 There were designed a lot of applications like printed and digital banners, promotional posters, program boards, back walls, social media graphic contents, graphic prints for stages and other stuff that look great and easily adapted with the system I created.
Each application works well at the place were the activities of the fair, the Regional Art Museum, and there were a lot of people that give a great reception, specially kids but also adults, the staff, book sellers and participants, so it was a great experience at all for everybody.